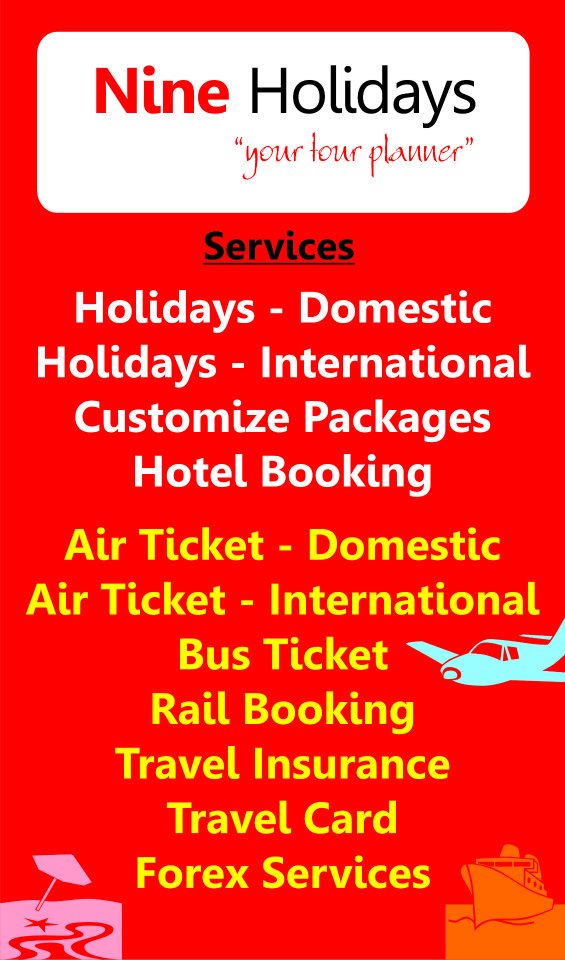 Company Profile
NINE Holidays is set up under the NINE Group (www.nine-group.com), a joint venture of NINE International, profitable servicing organization consulting for student Visa & Coaching. To provide add-on service of Air Ticket to our student and meet the ever increasing demand for domestic and international holiday packages from India.
NINE Holidays is projected, Launched and headed by Mr. Dipen Patel, who has plentiful experience of his list of field and Holidays is one of it. Traveling is passion and fun break should be for holidays, He has arranged leisure packages for both Individuals and Group Tours. NINE International, a leading company has been in operation since 2004 and well know skillfully in India with branch offices.
NINE Holidays has excellent local market and references. We gradually place well trained holiday staff for all our services.
When you call or contact our travel agency you will be guaranteed personalized, customized, prompt and courteous service.
We provide quality travel packages, tours, Special Honeymoon Packages, cruises and special promotions to our loyal customers and new clients by working on a One to One basis with all our clients, to assure them excellence in personalized service.
Our area of specialization in Tour Packages is for the following destinations:
International Packages:
Thailand, Singapore, Malaysia, Mauritius, Europe, Dubai, Hong Kong, South Africa, Sri Lanka and Maldives
Domestic Packages:
Kashmir, Himachal Pradesh, Rajasthan, Madhya Pradesh, Goa, Kerala, Andaman, Karnataka, and South India
Honeymoon Packages:
Maldives, Dubai, Mauritius, Kerala, Kashmir, Andaman & Nicobar
Our Motto:
Personal attention is not the exception but the rule.
Flexibility:
We also provide custom made itineraries depending on the specific needs of the clients. We simply need the month of travel, places to visit, budget per person and the number of persons traveling. Our totally flexible itineraries could be followed individually or combined to make a full package.
Nine Holidays Features:
Regularly reviewing tourist's requirements and suggestions.
Regular maintenance and up-keeping of facilities.
Personal touch in understanding and fulfilling customers need and expectations.
Personal approach for day-to-day administration and operation.
Maintaining hygienic and clean conditions.
Implementing International Standard for quality management system.
Ensuring security and safety.
Reliable association and long term relations with other service provide.